TAC 2017 Tunnelling & Underground Spaces Workshop
October 12-13, 2017
École de Technologie Supérieure (ÉTS) &
Hôtel Alt Montréal
Montréal, QC, Canada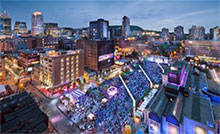 Join over 100 Canadian tunnelling colleagues in Montréal, Québec, Canada for the Tunnelling Association of Canada's 2017 fall workshop and the 2017 TAC Achievement Awards!
Workshop Outline
This year's workshop topic is Tunnelling and Underground Spaces – The Urban Challenge – and will include international practitioners, featuring:
Han Admiraal and Antonia Cornaro of ITA's Committee on Underground Space (

Rethinking Design and Construction of Tunnels and Underground Spaces in the Urban Environment

);
Robert Goodfellow of Aldea Services LLC (

Practical Implementation of Risk Management in Tunnel Projects

);
Joe Sopko of Moretrench (

Ground Stabilization

);
Gerhard Sauer of Dr Sauer and Partners (

NATM and around

); and
David Bennett of Bennett Trenchless Engineers (

New ASCE Guidelines on Trenchless Technologies

).
The workshop will also include sessions on Montreal's infrastructure, including the Geology of the Montreal Area, Montreal Underground, and Le Projet du Réseau Électrique Métropolitain. The workshop will conclude Friday afternoon with site visits to the Atwater Tunnel Project and the Côte-Vertu Underground Garage Project.
Please
click here to see the full program outline
.
Registration Details
The early workshop registration price (before October 1) is only $425 for TAC members and $500 for non-members (includes TAC membership for 2018). This increases to $475 and $550, respectively, on October 1. Workshop registration includes attendance at TAC's 2017 Awards Banquet on the evening of October 12 at Hôtel Alt.
To register online, please
click here
. Payment can be made by Visa, MasterCard, AmEx or cheque. If paying by cheque, please mail your remittance to: Tunnelling Association of Canada, 8828 Pigott Rd, Richmond, BC, V7A 2C4.
Sponsorship
Gold ($3,000), Silver ($2,000) and Bronze ($1,000) sponsorships are available to consulting firms, contractors, suppliers and other organizations in the tunnelling field. Each level comes with complimentary workshop registrations – three for Gold Sponsors, two for Silver Sponsors and one for Bronze Sponsors. Please
click here for the sponsorship information
package and order form.
For more details, please contact us at
info@tunnelcanada.ca
or call us at 604-241-1297.
Hotel Reservations
We have arranged a special rate of $179 plus taxes and fees (single or double occupancy) for rooms at Hôtel Alt (120, rue Peel, Montréal, QC,
www.althotels.com
). To book, please
click here
or call the hotel at 1-855-823-8120 and tell them that you are with the Tunnelling Association of Canada.
Please make your hotel reservation by September 20 to ensure availability.
See you this fall in Montreal!