2016 TAC Awards
The Tunnelling Association of Canada would like to recognize the achievements of the 2016 TAC Award recipients:
Canadian Lifetime Achievement Award – Dr. Raymond Benson
Canadian Innovation Project of the Year – Metro Vancouver, McMillen Jacobs Associates, Ausenco, Procon, Hatch, Golder Associates, McNally Construction, Aecon, Moretrench, Fraser River Pile and Dredge and AECOM for the Port Mann Water Supply Tunnel Project.
Canadian Infrastructure Project of the Year – Hydro Quebec, Neilson-EBC S.E.N.C. and AECOM for the La Romaine 3 Project.
Photo of the Year – Scott Marshall and Tony Dell for the John Hart Generating Station Replacement Project
Canadian Lifetime Service Award – Rick Staples
Dan Eisenstein Memorial Scholarship – Sarah Cain
Learn more about our 2016 TAC award winners and this year's recognized projects in the videos and pictures below.
Dr. Ray Benson – Canadian Lifetime Achievement Award

Port Mann Water Supply Tunnel Project – Canadian Innovation Project of the Year
La Romaine 3 Project – Canadian Infrastructure Project of the Year
Scott Marshall and Tony Dell: John Hart Generating Station Replacement Project – Photo of the Year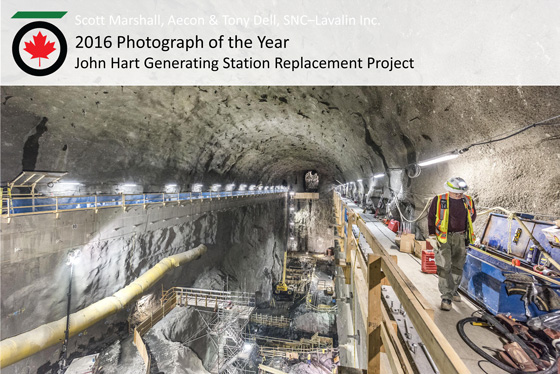 Rick Staples – TAC Lifetime Service Award